Live The Trilogy® Lifestyle For Less!
Workforce Housing Program Now Available
We all know that home prices in California are out of reach for many families and retirees. Trilogy® at Monarch Dunes is excited to announce a new program to help you overcome this issue. If you've been looking for a more affordable home in San Luis Obispo County, Monarch Ridge Townhomes at Trilogy Monarch Dunes may be an option for you!
We're happy to announce that we offer select Workforce Housing Program homesites in our Townhome neighborhood. Monarch Ridge offers a laid-back lifestyle with all the great resort amenities homeowners in Trilogy enjoy, but at a substantially reduced home price. These homes start in the $400's*, making the legendary Trilogy resort lifestyle more affordable than ever!
What is Workforce Housing?
The Workforce Housing program refers to housing that households can buy while keeping housing costs within certain limits. Housing is generally considered affordable if total housing costs do not exceed 30 percent (30%) of household income. It strengthens the local economy by allowing people to spend more of their income on goods and services rather than on housing. Indirectly, it can improve the health of families by enabling them to spend more time and money on health care, nutrition, education, and recreation.
Workforce Housing Program at Monarch Ridge
We currently offer 6 thoughtfully designed floorplans for the Workforce Housing program. These attached homes live large and offer a terrific value, at a size that's just right for your new nest. Floorplans range from ~1,623 sq.ft. to ~2,104 sq.ft with 3-4 bedrooms, 2.5-3.5 bathrooms, and 2-car garages.
Workforce Housing home prices are set based on household size, number of bedrooms in the home, interest rate at time of contract signing, and HOA dues. Income restrictions apply.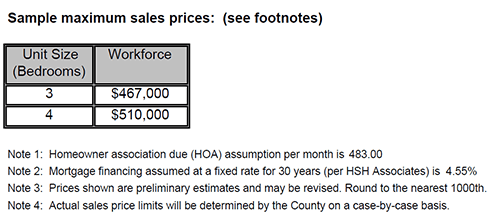 Set up a private appointment today by calling 888.672.0021 and speaking with a New Home Advisor. Learn more about living at Trilogy for less, and let us help you find your dream home!
ACACIA+

~1,817 Sq. Ft.
2-3 Beds
2.5 Baths
2-Car Garage

View PDF

SAGE+

~2,056 Sq. Ft.
2-3 Beds
2.5 Baths
2-Car Garage

View PDF
UNIT A

~1,623 Sq. Ft.
3 Beds
2.5 Baths
2-Car Garage

View PDF

UNIT B

~1,715 Sq. Ft.
3 Beds
2.5 Baths
2-Car Garage

View PDF
UNIT C

~1,994 Sq. Ft.
3 Beds
3.5 Baths
2-Car Garage

View PDF

UNIT D

~2,104 Sq. Ft.
4 Beds
3 Baths
2-Car Garage

View PDF
JOIN OUR INTEREST LIST Let us email you the latest updates on our new community