A golf resort community located near Olympia, WA
Welcome to Shea Homes® at Jubilee®!
Situated amid the panoramic natural beauty of the Pacific Northwest's Thurston County and against a backdrop of a protected forested preserve right on Puget Sound, Shea Homes® at Jubilee® is an exciting and picturesque resort community. At the heart of Jubilee is the Lodge - an elegant 26,000-square-foot Club where Members enjoy a large state-of-the-art fitness center, indoor pool and spa, community lounge, activity center, multipurpose ballroom, library, game room, arts and crafts rooms, and more. The community's convenient location combined with its own beach access makes for a rare combination you won't find in any other master planned communities in the greater Seattle area. It's one more thing that sets Jubilee apart from the maddening crowds.

Discover Shea3D™ Homes at Jubilee:
A Revolutionary New Approach To Home Design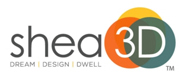 Our revolutionary new home designs tailor your primary living spaces to match your unique lifestyle. With Shea3D's patent-pending YourPlans™, you choose the placement of your kitchen, dining, and entertainment areas to design a home that perfectly matches how you live.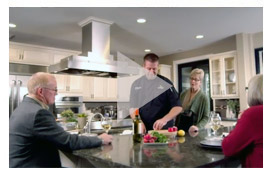 More than blueprints or floor plans, Shea3D offers YourPlans™, which let you decide how your home will perfectly complement the way you live - whether it's hosting the whole block for a wine tasting, or having your kids over for a holiday dinner. Each YourPlan is based on an open-space design and allows you to choose from three interchangeable main living spaces: Entertainment-centric, Kitchen-centric, or Outdoor-centric, empowering you to choose the one that best fits your lifestyle.

Learn more at www.TrilogyLife.com/Shea3D and watch this video to hear a professional Executive Chef describe the incredible Shea3D Chef's Kitchen.

The Jubilee Lifestyle: Rich With Amenities For Living The Good Life.
Members at Shea Homes at Jubilee live The Good Life each and every day, thanks to amenities including the following:
The 26,000 square-foot Lodge, a well-appointed resort-style Club with state-of-the-art athletic and entertainment options for connecting with yourself and others. Here you'll find everything from Tai Chi classes, state-of-the-art fitness equipment and on-site personal trainers to tennis, bocce ball, and basketball courts - and even an elaborate outdoor trail system that winds its way throughout the community and leads to a private beach on Puget Sound with stunning vistas of Mt. Rainier.
The Fitness Center, replete with state-of-the-art cardio and weight training equipment, on-site and online personal trainers, an aerobics studio, luxurious locker rooms, and much more
The Indoor Lap Pool, with rolling edges to prevent waves, making it ideal for those looking to get in a year-round aquatic workout. And don't forget to soothe those aching muscles in the adjacent Spa.
Two professional-style Tennis Courts for playing competitively or just a friendly game for bragging rights amongst friends.
Private Beach Access with a panoramic view of Mt. Rainier, just a short walk down Jubilee's beautiful wooded trail (temporarily closed)
The Golf Club at Hawks Prairie, adjacent to Jubilee and offering a spectacular venue for a challenging round of golf, one of the top courses in the area
Hawks Prairie Trail, with private access for Members, leading to an elaborate system of paved outdoor trails that gracefully winds through the forested beauty of this special place
The Billiards and Game Room with two full-size billiards tables, comfortable seating, suspended sports televisions, and multiple game tables
The Arts and Crafts Studio, where you can pick up a new hobby or master your favorite art form - from painting to ceramics, sculpture to calligraphy
The Multipurpose Ballroom, a comfortably appointed community entertainment space with great versatility

A Convenient Location, Close To It All.
Shea Homes at Jubilee is located within easy access of I-5, making it a breeze to travel to surrounding areas, such as downtown Seattle. With its prime location, Jubilee simultaneously enjoys an abundance of natural beauty and serenity and all the world class dining, shopping, and cultural attractions available in the surrounding cities.

Experience The Shea Homes Difference
Shea Homes® are designed differently inside and out. Our goal is to create a unique environment that honors you, inspires you, kicks monotony in the pants and, yes, even changes your life. It starts with a belief that the source of vibrant living is health. And because we build homes that also build community, life here is about connecting - as much with the people you love as the new passions you discover, and with new neighbors who share this rejuvenating time of life. The Shea Homes difference is why we attract fascinating people with a zest for living who are drawn to all that life has to offer. At Shea Homes at Jubilee, it's not hard to see why.

Browse Our Video Gallery:
To view the full gallery, you need to have JavaScript enabled in your browser.