A 55+ Resort Community near Washington, D.C.
LIFESTYLE
Shenandoah Lakeside Lodge

Created as the centerpiece of the Trilogy® at Lake Frederick 55 plus community near Winchester, VA, Shenandoah Lakeside Lodge is first and foremost an extension of every Member's home, with 5-star amenities to rival the area's finest resorts. With areas dedicated to relaxation, fitness, food, games, and more, Shenandoah Lodge is a place where Members can come together, make new friends, and enjoy the free time they have worked so diligently to earn. Shenandoah Lodge is also a place where lives are enriched, neighbors become personal friends, established relationships are rediscovered, and personal interests are pursued in an elegant yet relaxed environment. The contemporary décor, anticipatory service, and unique programming create a welcoming environment certain to inspire Members and guests on a daily basis.

Video: The Good Life at Trilogy Lake Frederick!

Shenandoah Lodge & Athletic Club

Trilogy at Lake Frederick is located on 900 acres of beautiful Virginia woodlands. Overlooking Lake Frederick and surrounded by views of the Blue Ridge Mountains, Shenandoah Lodge & Athletic Club sits as the centerpiece of this 55 plus community near Winchester, VA. The Club is comprised of three distinct yet complementary buildings - the Lakeside Lodge, the Sports & Fitness Center and the Shoreline Outfitter (coming soon) - all of which offer Members and guests over 36,000 square feet of indoor and outdoor spaces. Visit ShenandoahClubVA.com to learn more.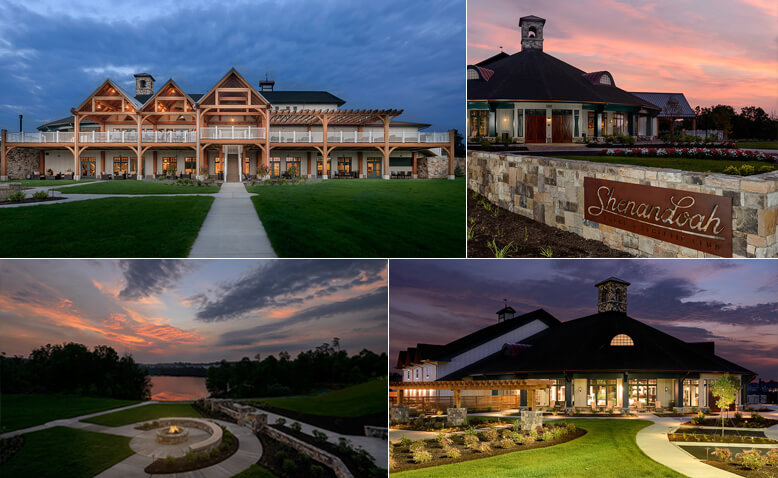 Region's 117

Region's 117 combines the important elements of the region; good food and great views. The staff takes locally sourced ingredients curated within 117 miles of the Club - and crafts fresh, regionally inspired dishes sure to please everyone. Equally important to the quality of the food is the magnificence of the views. Enjoy the best seats in the house on the Veranda, an expansive deck that runs the length of the club and overlooking the 117-acre Lake Frederick.

Region's 117 is available to everyone; Members and all other food lovers. Visit Regions117.com to learn more.

Hours of Operation:
• Tuesday - Saturday | 11:30am - 9:00pm
• Sunday Brunch | 11:00am - 3:00pm
• Closed Mondays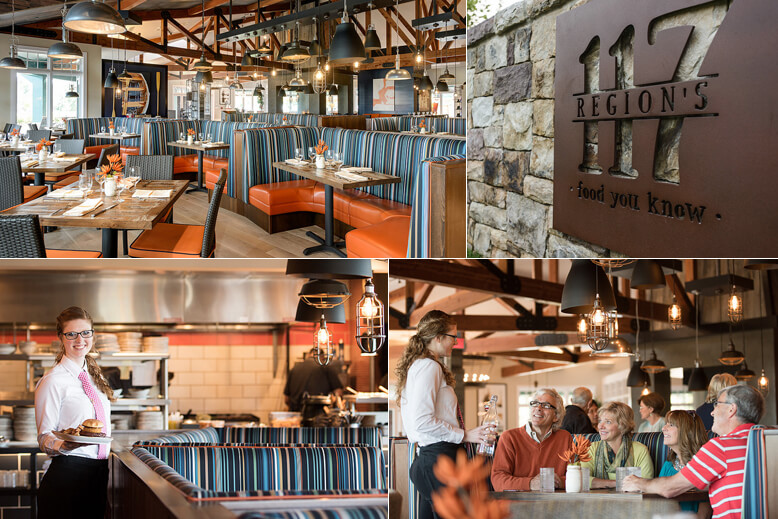 Inglenook

The most distinctive interior architectural element of the Club is the four-way fireplace which sits alongside Shenandoah's casual tavern bar, Inglenook. In traditional Europe, an inglenook is a natural gathering place directly adjacent to a fireplace used for warming up. Our hope is that Inglenook will similarly make Members feel warm and comfy on every visit.

Enjoy a local craft beer at the bar, your favorite dish from Region's 117 at the community table, or cozy up to the fireplace with a mug of our signature Hot Inglenook Cider.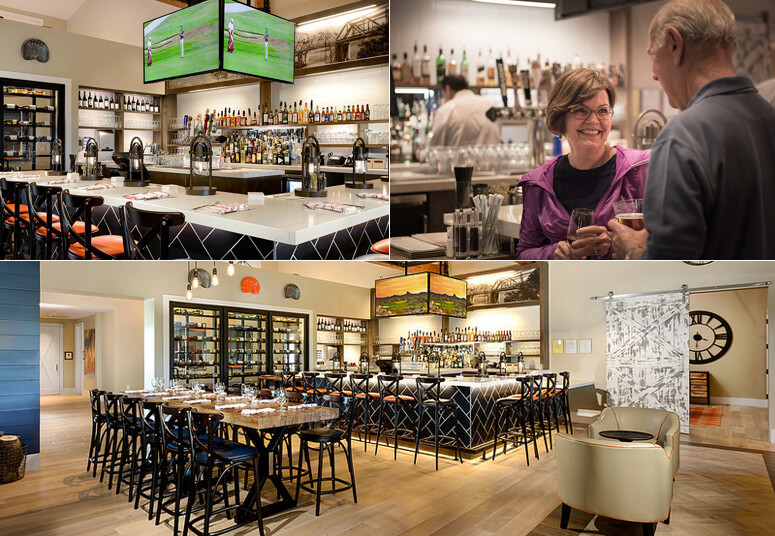 The Market Place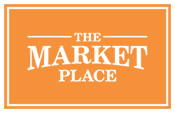 The Market Place is a unique enclave featuring grab & go coffee and light breakfast and lunch options. Like Region's 117, much of The Market Place's offerings have been curated with location in mind. Guests can enjoy locally sourced fruits and seasonal favorites known to the Shenandoah Valley such as fresh-made apple cider doughnuts. It's one part coffee bar, one part sandwich shop, and is sure to be a favorite place among Members.


Rachel's Kitchen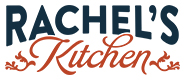 Rachel's Kitchen was inspired by the widely celebrated environmentalist and author, Rachel Carson. Locally, her influence can be seen on Rachel Carson Drive, the main road that runs the length of the community. Rachel's Kitchen, is the perfect place to be with friends and family. Located downstairs with a patio overlooking Lake Frederick, the space combines a showcase kitchen with comfortable seating and a large television to create an ideal space for private parties, cooking demonstrations or classes. It's also the spot to enjoy Trilogy's exclusive ClubConnect™ educational and events programming, which features live simulcasts from throughout Trilogy network of communities.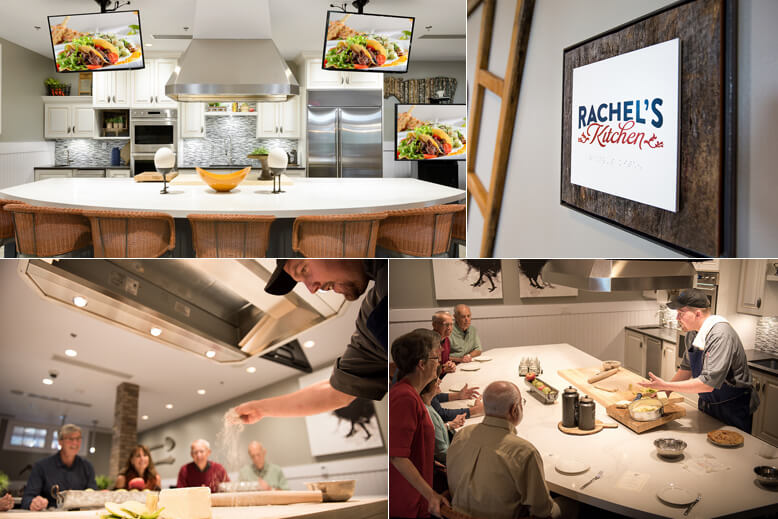 The Paddock
The Paddock is the signature private dining experience in the Lakeside Lodge. Guests may select their favorite dishes from Region's 117 or work with the culinary team to create a custom menu. Whether celebrating an anniversary, birthday or other special occasions among friends, the Paddock is the perfect place to celebrate.
Private Wine Storage
For a modest annual fee, Members are able to purchase wine through the Club at a preferred price, store it at the club, and have it served at their table for simply a gratuity to the server.


Chef's Farm and Orchard
An important element to the Region's 117 experience is the use of fresh, local ingredients from the Lake Frederick and Winchester, VA areas. Of course, there is nothing fresher than being grown and harvested on-site. Just outside the Lakeside Lodge we've planted a garden for vegetables, herbs, and spices as well as an orchard for apples, cherries, and more.
In addition to the Chef's Farm and Orchard, there will also be community gardens available to Members to grow produce to use in their own kitchens.


Shenandoah Events Center
Shenandoah Events Center offers guests a venue for private events. Inspired by traditional farmhouse architecture, the Events Center features soaring vaulted ceilings with massive exposed wooden beams, accentuated by natural light from the expansive windows. The Events Center opens to the Garden and offers an exceptional, professional staff to make all of your event dreams come true. The Events Center will be available to Members and the public.


Crow's Nest

Alluding to the famous Crow's Nest at Augusta National, Crow's Nest at Shenandoah Club serves much of the same purpose (minus the sleeping quarters). It is an escape with poker and card tables, the Bunker Bar, billiards, shuffleboard, flat screen TVs, golf simulator, and more.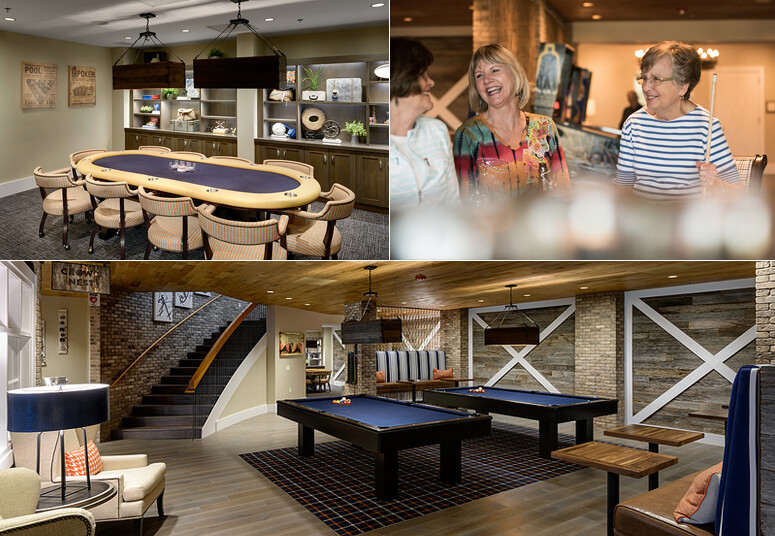 Arts & Exploration Studio
Designed to promote creative energy, the Arts & Exploration Studio is an inspiring place for your inner artist to escape. The workshop is well-stocked - including kiln - and designed for quilting, painting, ceramics and more. Members can expect a variety of classes in subjects as diverse as oil painting to woodworking, but a majority of the programming will be driven by the interests of Members. In addition to crafts, a few quick changes and the studio can transform into an ideal space for meetings and small events.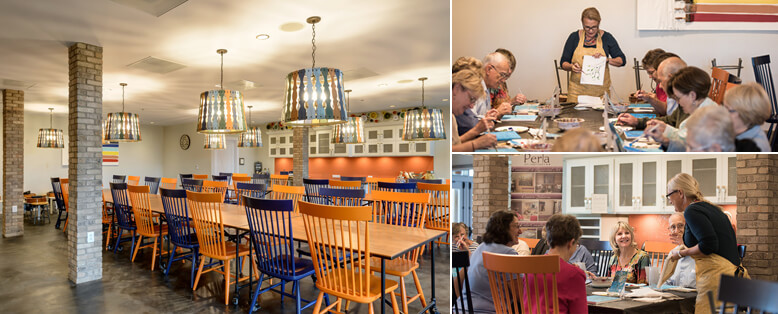 Afturburn

Afturburn combines the best of Soul Cycle, CrossFit, high-intensity interval work, personal training and mobility creating a challenging but fun workout to improve Members' well-being. Afturburn, the class, combines cardiovascular and strength equipment, mobility devices, and open floor space for both group and individual work. Afturburn, the branded space, provides a sleek and comfortable enviroment with a wide variety of equipment, as well as indoor and outdoor activities and classes.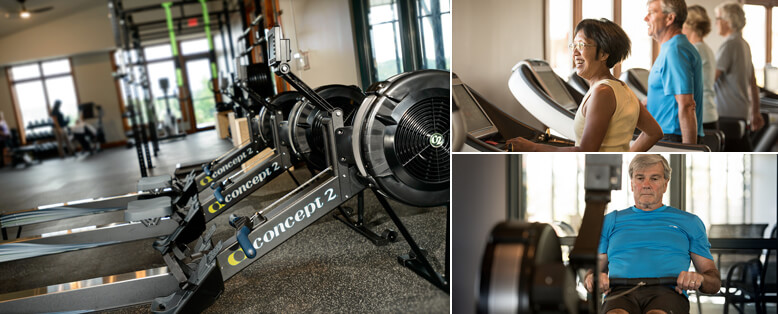 Pools
Looking for a low-impact workout? Water aerobics classes in the indoor fitness pool provide just that. Is relaxation more your style? The resort pool is for you. Lounge around poolside on a luxurious chaise, or take a dip in the refreshing water.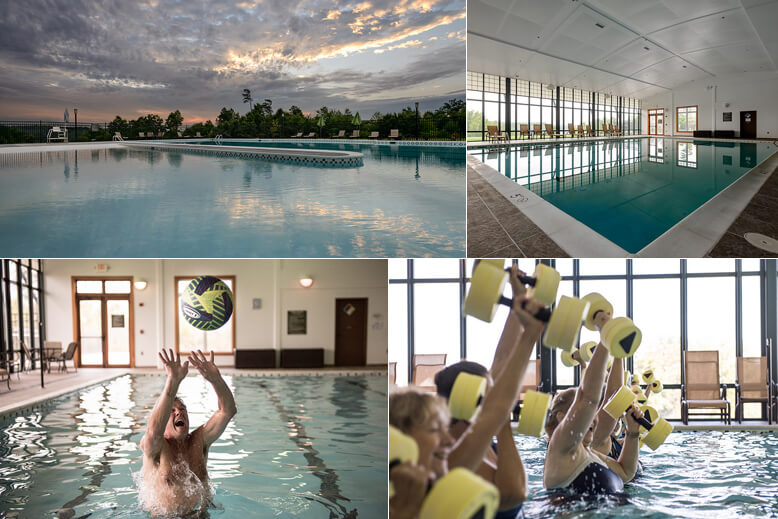 Shoreline Outfitter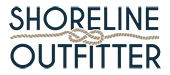 One can't have the full Shenandoah experience without a trip out on Lake Frederick. The Shoreline Outfitter will sit right on the lake and provides easy access to the clear water. Whether you're grabbing a kayak to run the "Lake Loop" course or fishing gear to catch one of the Shenandoah Valley's best largemouth bass, the Shoreline Outfitter's got you covered.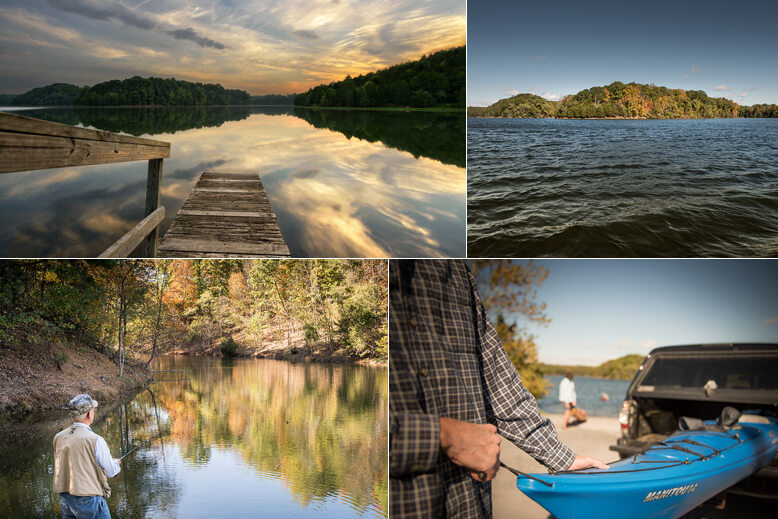 Pickleball, Tennis, and Outdoor Games
Shenandoah Club includes an expansive pickleball and tennis facility (four and two courts respectively). Pickleball is one of the fastest growing sports in the country, challenging players athletically without requiring the stop-and-start running of tennis, racquetball, or squash. Additionally, on the Lakeside Lawn directly behind the Lodge, a variety of outdoor games are available, including lawn bowling, cornhole, and more. Enjoy an evening game among friends, with a tasty beverage from Inglenook.