A 55+ Gated Resort Community near Orlando, FL
LIFESTYLE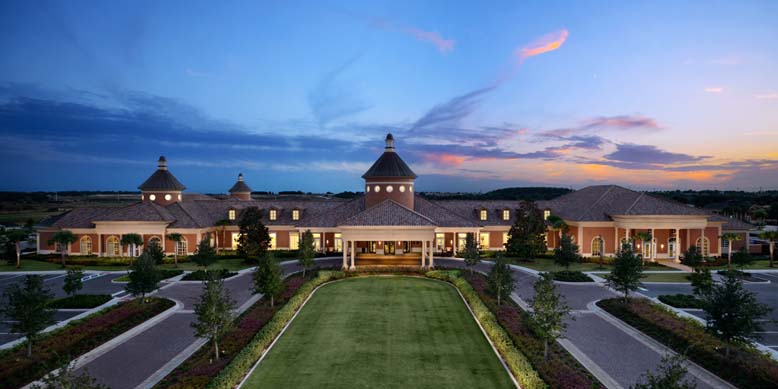 Welcome To Magnolia House at Trilogy® Orlando!
We welcome you to Magnolia House, the centerpiece of the Trilogy® Orlando community and a luxurious extension of your home. Destined to exceed even the highest expectations, this 57,000+ square foot resort club features all the latest in dining, fitness, relaxation, and social connectivity. Rich architecture, modern decor, and 5-star amenities blend to create a welcoming atmosphere, certain to inspire and awe on a daily basis. Magnolia House is a place where lives are enriched, neighbors become friends, old relationships are rediscovered, and personal interests are pursued, in an elegant yet relaxed environment. Take a video tour of Magnolia House and explore its incredible resort amenities below!

Spirited Competition at the Sports Pavilion!

The spectacular Sports Pavilion features championship tennis courts and Bocce Ball courts, as well as Pickleball, a relatively new racquet sport which combines elements of badminton, tennis, and table tennis. These well-groomed facilities offer the best venue in the area for whatever your favorite outdoor pastime may be. Choose your game and then choose your team mates. It's always fun and games around here, with a friendly yet competitive spirit that's infectious.

In The Best Shape of Your Life: The Athletic Club at Trilogy

A state-of-the-art Athletic Club that has everything you can imagine to keep you at your physical and spiritual best - from Tai Chi classes to cutting-edge fitness equipment to on-site health and fitness trainers.The Athletic Club provides a diverse blend of indoor and outdoor recreation opportunities including popular aerobic classes. Our health and fitness specialists are available at every step along the way for inspiration, guidance and support. With ultra-modern training equipment, and real-time online personal training, every detail has been considered to maximize your fitness experience. State-of-the-art treadmills, elliptical trainers, stationary bikes, women's-only circuit weight and free-weight training - it's all here. Get ready to enjoy the fruits of your labor as you achieve maximum wellness.

Enjoy A No-Sweat Workout at the Indoor/Outdoor Lap Pool
The Indoor Lap Pool hosts water aerobics classes and serves as the perfect place for a low-impact, yet challenging, workout. With space for active exercise, luxurious relaxation and a protected indoor area for year-round swimming, the Indoor/Outdoor Lap Pool is designed for fun and pleasure... and it's the perfect place to float away.

Lounge in The Sun - Or Make A Splash - at the Outdoor Resort Pool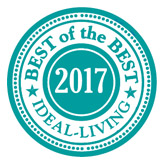 The Outdoor Resort Pool was awarded "Best Community Pool 2017" by Ideal Living! This gorgeous amenity delivers a true resort experience you won't find at other communities. In addition to sparkling blue water which meanders from inside to outside, we've added a few touches typically reserved for a Caribbean getaway. This enormous resort pool is appointed with elegant, comfortable outdoor chaises so you can lounge the day away pool side. Shaded areas abound as well, so if it's a lazy afternoon with a great book you're looking for, this area is for you.

Great Food, Great Wine, Great Company at The Grille
Great dining is part of life at Trilogy. As the feature restaurant of Magnolia House, The Grille includes delicious options for lunch, dinner, and drinks. The menu is inspired by our members where you can expect to find fresh, healthy fare at reasonable prices combined with your favorite local grill. The Grille represents a comfortable, relaxed place to meet with friends, sate yourself with delicious food and drinks, and enjoy the spoils of a life well-lived.

Watch, Learn, Eat, Repeat... at Emma's Culinary Garden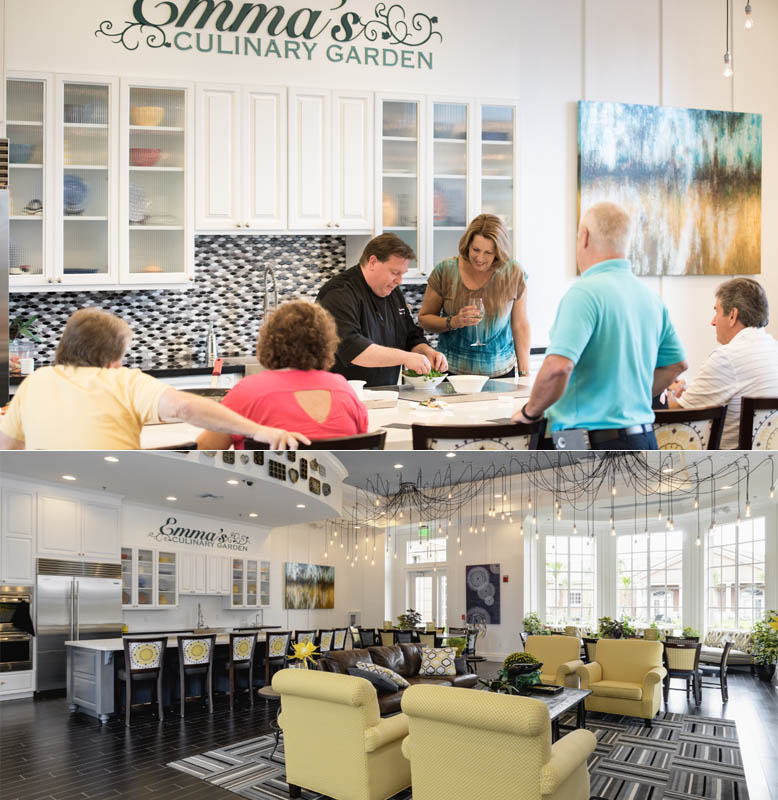 One part high-end kitchen, one part dining room, and one part working garden, Emma's Culinary Garden is where professional and novice chefs meet, learn, and create. Emma's is versatile enough for facilitating a professional cooking lesson with one of our renowned chefs, or hosting a private event with a chef of your very own for the night. Bon appetit all Food Channel fans!

Catch Up With The Neighbors, at Explorations Connection Lounge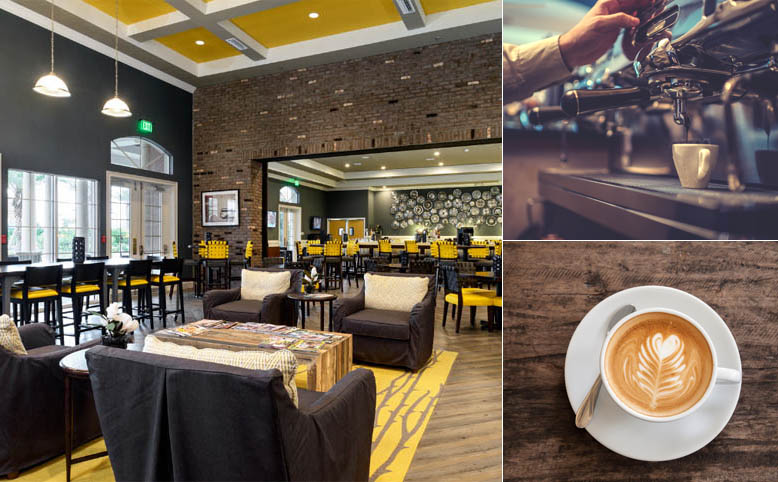 A casual and fun coffee-and-more cafe, Explorations couldn't be further from the trappings of a pick-up counter and paper-cups coffee station.Explorations Connection Lounge is a neighborhood gathering place. It is comfortable and inviting, and created to promote a friendly gathering place for Trilogy Orlando residents. We provide the computers so you can set sail wherever the Internet takes you. Or, do some armchair traveling with a great selection of the latest newspapers and magazines from The Newsstand. Alone or with friends, it's sure to be a frequent destination.

A Modern-Day "Man Cave": The Crow's Nest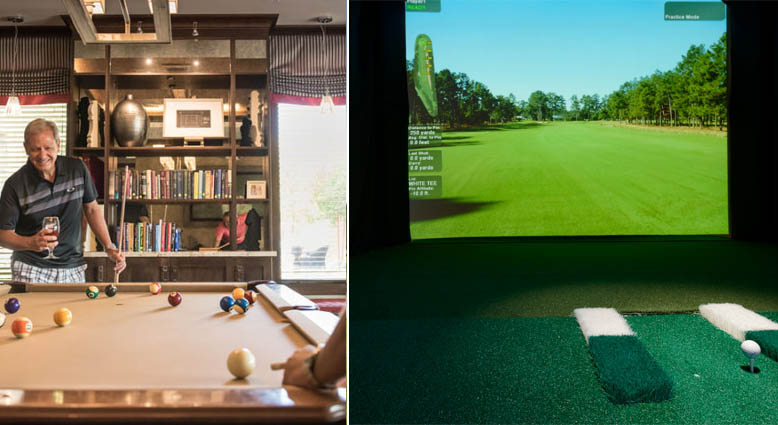 The Crow's Nest is a sports escape within the comfortable yet elegant - ambiance of Magnolia House. Featuring a billiards table, flat-screen TV, full-scale golf simulator, and more - this is as good as it gets for a modern day "man cave."

Express Yourself! Show Off Your Creative Talents in The Artisan Studio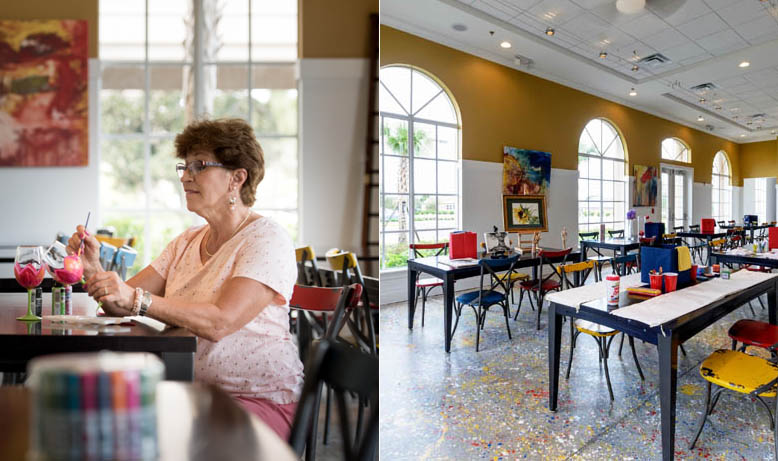 The ideal venue to invigorate and promote creative energy, The Artisan Studio is ready to release your inner artist. With set-ups ready for paint, pottery, scrap booking and more, you'll feel right at home setting up shop in this inspiring space.

Up The Ante at Four Suits!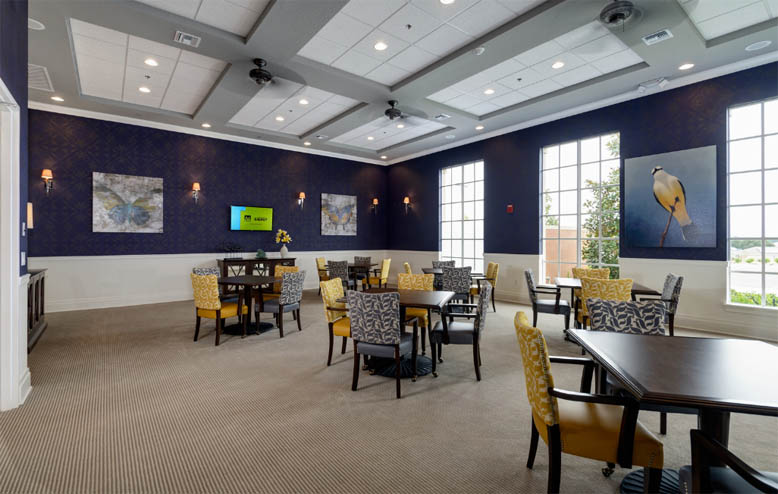 Want a great place to enjoy a card game among friends? You've got it at Four Suits. The softer option for our card-playing crowd, this room is perfectly "suited" for everything from cribbage to canasta, poker to pinochle. Four Suits is one of the most popular gathering spaces at Magnolia House.

Spend Some Time At The Office!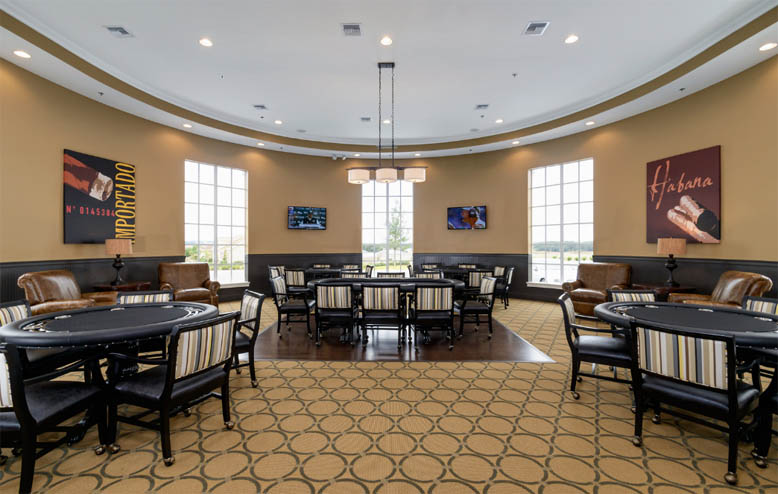 The classic line, "I'll be working late at the office," has never implied more fun. The Office is the ultimate poker room, and is well-appointed to create a great place for enjoying a friendly hand or hosting a competitive tournament. What's your game?

Catch Up On The News - and Catch Up With The Neighbors, at The Newsstand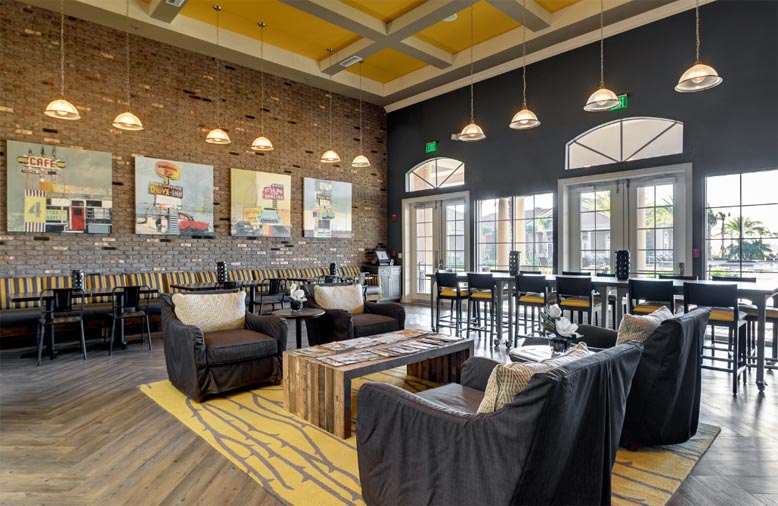 The Newsstand is just that - a mobile breakfast and periodical stand. Grab your favorite hot beverage and reading material, and then hang out with a laptop or iPad in any of the comfortable seating options provided in Explorations Connections Lounge.

Performances, Parties, and More: The Events Center & Theatre
Incredibly appointed, the Events Center & Theatre is ideal for socializing, entertaining, or even creating a light theatre production. Efficiently designed with a kitchen for catered events, and doors that open to an outdoor patio, members can use this space year round. Whether it's for an intimate gathering or more elaborate public banquet, the Events Center offers uncommon elegance with every possible service available to make your event a smashing success.