A luxurious 55+ resort community in the East Bay Area
LIFESTYLE
ive The Good Life: Club Los Meganos at Trilogy at The Vineyards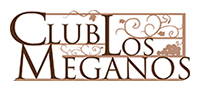 The energetic epicenter of the Trilogy® at The Vineyards community, Club Los Meganos is a 34,000+ square-foot hub for connecting with yourself and others. Offering a full array of resort-style services, there are many intimate spaces where you can connect, indulge and be pampered. There are also much grander spaces in which to entertain and educate, as well as a culinary-focused environment where you can explore the world of locally-grown food and wine. More than just a club, Club Los Meganos is a collective expression of the Members and their tastes. Amid chic modern-architecture, carefully appointed interior design features and stunning vistas, Members can escape and enjoy a romantic meal, unwind with friends old and new, or decide between a day of indulgence or physical challenge. Visit ClubLosMeganos.com for more information!

Your Daily Happy Place | The Resort Pool & Cabanas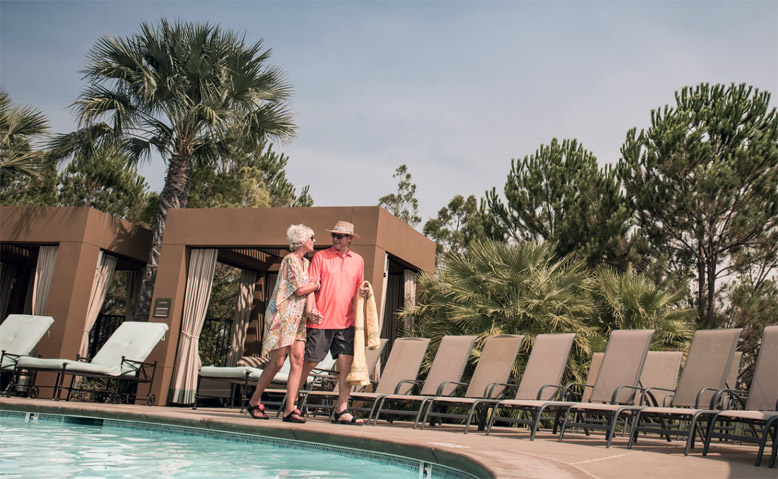 This enormous resort-style pool is appointed with gorgeous, comfortable outdoor chaises, cabanas with plasma televisions, and convenient, tasty food service. Outdoors at the shimmering, turquoise pool you will find seating and lounges in a manicured landscaped setting allowing for both sunning spaces and quiet places of shade. Swim laps, take a water aerobics class or just float in utter tranquility. Our built-in barbeque facility is perfect for picnics and community events. The outdoor pool will make you feel like you're on permanent vacation, and this space is a private amenity reserved for homeowners at Trilogy at The Vineyards.

A No-Sweat Workout | The Indoor Junior Olympic Pool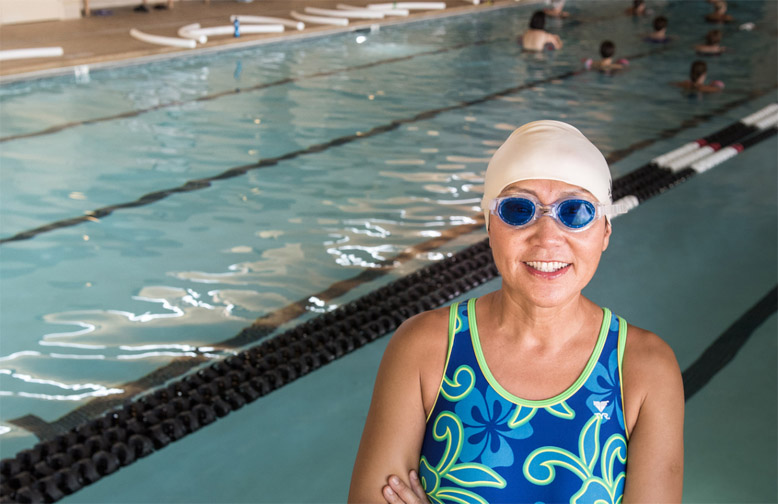 Our state-of-the-art indoor lap pool includes rolling edges to prevent waves, making it ideal for those looking to get in an aquatic workout. Its wave-reducing design lets you do your laps without extra resistance from other swimmers, so there are even fewer excuses now for you not to take a plunge.

In The Best Shape of Your Life | Delta Athletic Club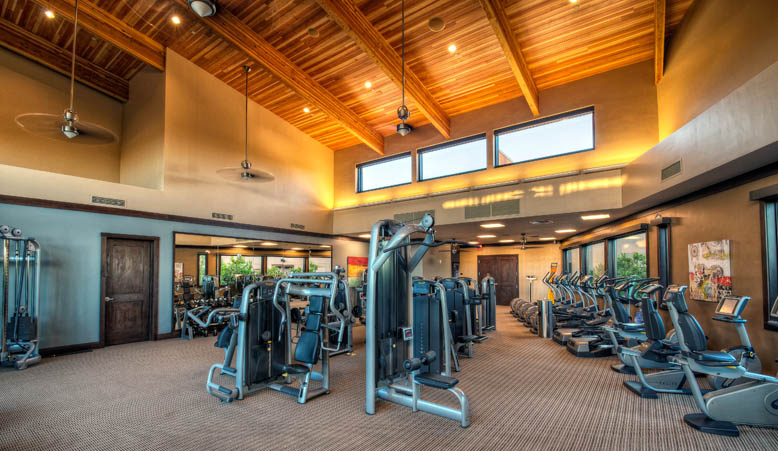 One of the first things you'll notice about a Trilogy® community is our emphasis on wellness of mind, spirit and not least of all, body. To help you achieve peak wellness, we have built the Delta Athletic Club: an expansive full-service fitness center for our members that caters to every individual and every type of personal fitness goal - and this high-end, luxury fitness experience is available for Member use only. The Delta Club offers state-of-the art equipment including free weights as well as the newest, comprehensive TechnoGym™ Training System which links all cardio and strength training machines together for real-time personal training. A wonderful balance of indoor and outdoor class selections includes popular classes like Step, Low Impact, Spin, Pilates, Yoga, Muscle Toning, and a private outdoor Tai Chi patio and fitness lawn.

Rejuvenate, Relax, Renew | Sawã Spa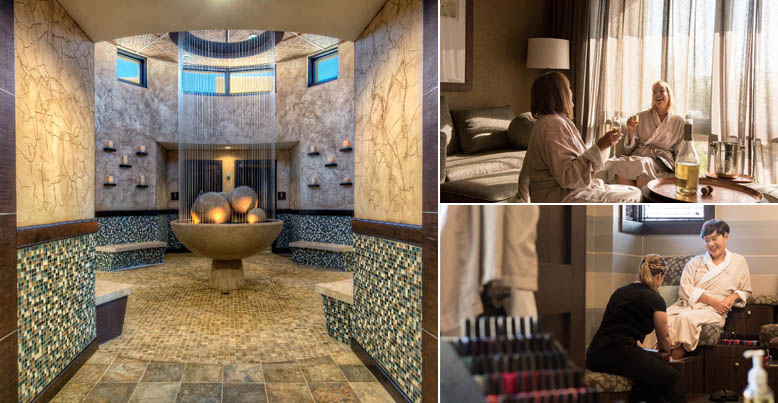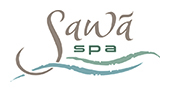 This 5,000 square-foot full-service resort-caliber spa has four treatment rooms with adjacent outdoor patios, private men's and ladies' lounges with steam showers, and an outdoor private salt water spa and garden retreat. Here you'll experience state-of-the-art wellness by indulging in a full array of massages, pedicures, manicures, facials, aromatherapy, wellness classes, and tantalizing skin and body treatments based on the latest approaches to wellness and beauty. The center of the treatment rooms, or the Weeya (meaning sacred ritual), is quiet yet visually engaging with its artistic water feature centerpiece. The sense of place and history is palpable with the spa concept being supplemented by local healing plants (grapes, aromatherapy, oils, scrubs, tinctures, infusions, etc.) used by the region's native culture, as well as vinotherapy. Sawã Spa is the perfect place to spend a day of self-indulgence, or a Girls-Day-Out for you and your friends! Visit SawaSpa.com for more information!

Serve Up Some Spirited Competition | Los Olivos Tennis Pavilion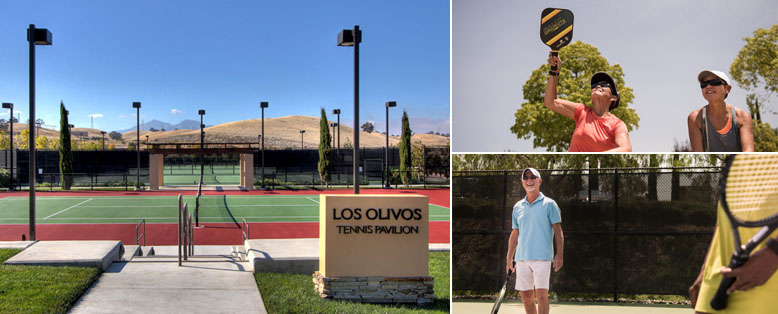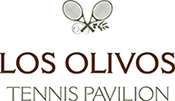 Tennis enthusiasts have 4 courts to choose from at The Vineyards. You might want to show off your lightening serve on the centrally located stadium court which offers elevated terraced seating and a shaded patio. The three additional courts are championship grade, and are lit every evening for nighttime play. Professionally designed, meticulously maintained, and beautifully situated, the Los Olivos Tennis Pavilion is an ideal venue for all tennis enthusiasts.

Dine Alfresco | Café d'Oro Restaurant & Patio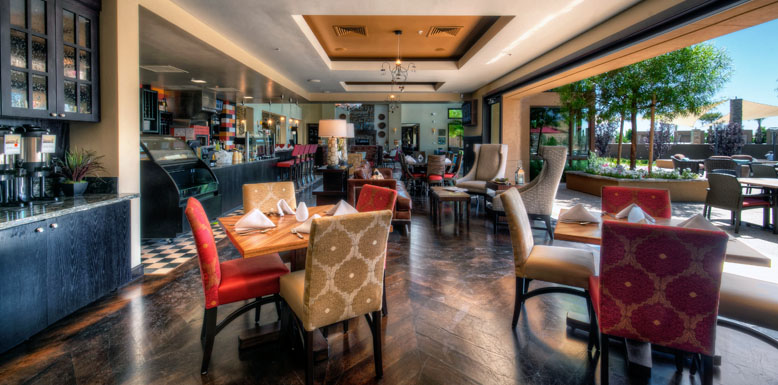 A comfortably appointed eatery for enjoying drinks, small bites, sandwiches, and more. Here Members relax and linger enjoying the ambiance of the morning, or the spectacular mountain sunsets over delicious casual fare. With seating for up to sixty and a gorgeous patio with outdoor service to enjoy the lovely nearly year-round sunshine, the venue even includes a community market table with local wines, fresh ingredients and a changing daily menu that pleases the foodies and the non-gourmand alike.

The Gathering Place | Helak Grand Living Room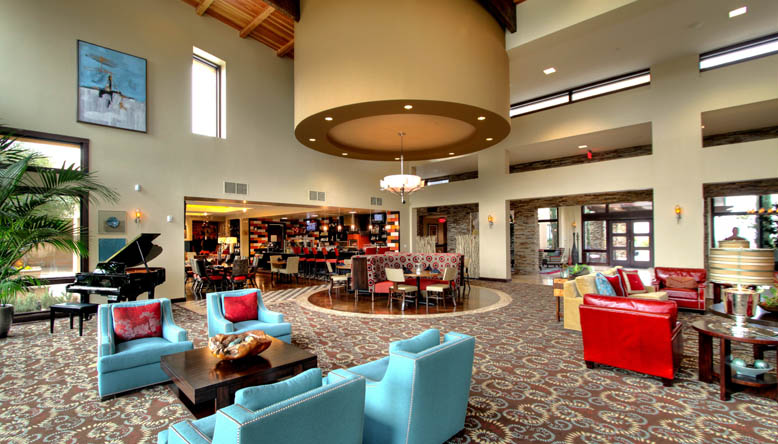 The Helak Grand Living Room is more than just a popular gathering spot - it is the hub for making new social connections. Members and their guests can take full advantage of the thoughtful appointments which provide many areas for engaging in private conversation - or solitary reflection. Much of the attention naturally flows to the large glass accordion wall which showcases unforgettable views of the surrounding rolling hills, and allows guests to experience the stunning view and the popular indoor/outdoor living for that is part of Trilogy's authentic wine-country lifestyle.

Learn, Cook, Eat... Repeat! | Abby's Gourmet Studio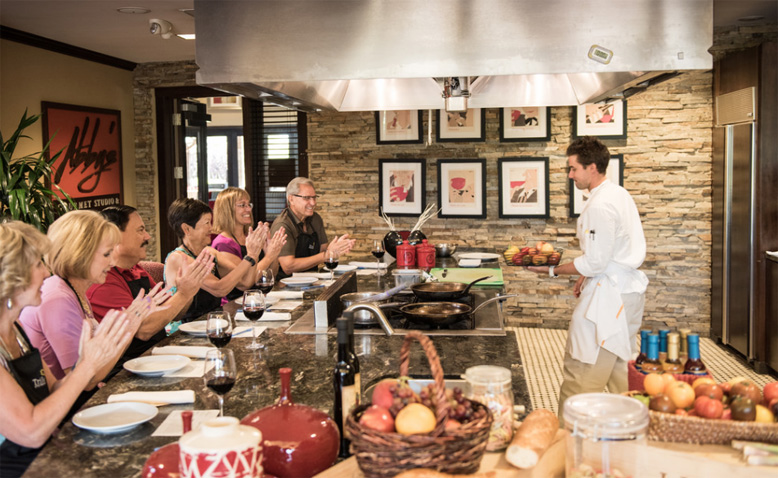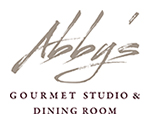 Abby's Gourmet Studio is the perfect setting to host your special occasion or meeting. Able to accommodate parties of 2 to 40 in an exciting culinary-focused atmosphere, it is the ideal location for private dinners, cocktail receptions, wine tastings, wine maker and interactive dinners, live culinary demonstrations / lessons or business meetings. Abby's Gourmet Studio includes a beautiful adjoining patio and fire pit - so its event options are endless. The walls of the dining room are lined with artisan-crafted wine lockers where Members can access, store and display their most coveted vintages.

A Cozy Getaway | John Marsh Exploration Lounge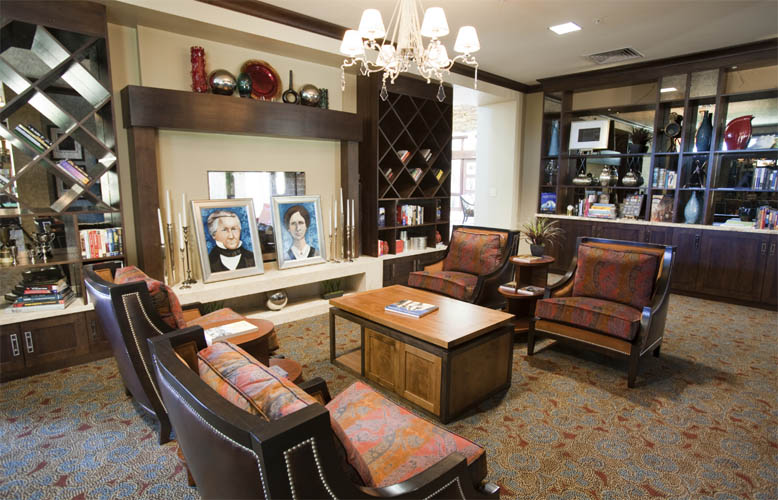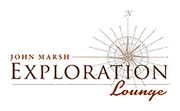 The Exploration Lounge acts as an extension to your living room, and is a place where people can immerse themselves in personal study, relax with a quiet cup of coffee, spend some time online, or discuss current events with friends. The lounge and the entire club are Wi-Fi enabled, and we even provide the laptops so you can reach out across the globe . . . or across the street.

Rack 'em Up! | Adobe Billiards Room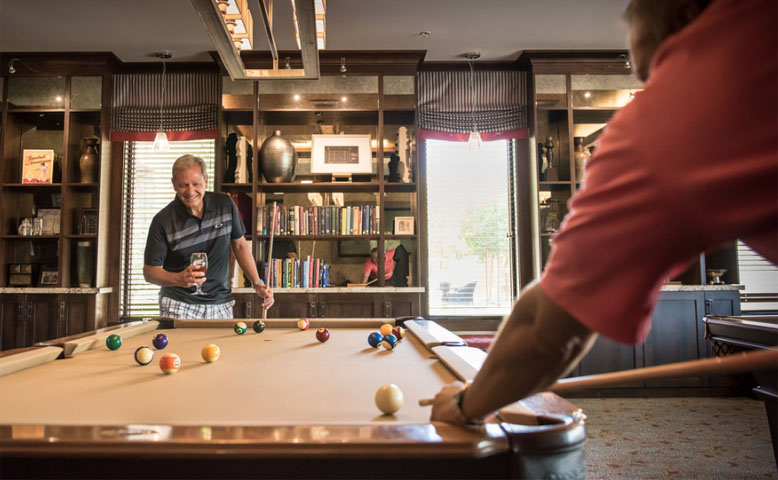 One-on-one or tournament-style play, the two full-size billiards tables are always popular. After the game Members can grab a new release from the DVD library for home viewing.

Spectacular Events Under The Stars | Pioneer Promenade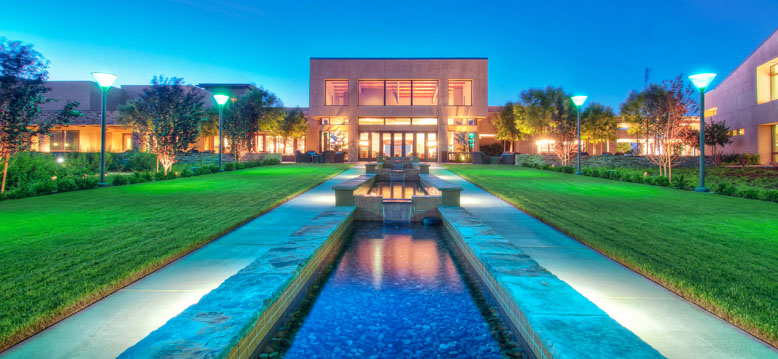 This area might be the most exciting and invigorating part of the outdoor experience at Club Los Meganos. The gradually sloped, manicured lawns allow for invigorating fun-filled afternoons of summer concerts, lecture series and outdoor entertainment. The lawns are divided by a beautiful water feature that runs nearly 150 feet and is punctuated by a dramatic European reflecting pool. The Promenade connects the numerous outdoor patios and segues to the many outdoor retreats.

Let It Roll! | Awe Bocce Gardens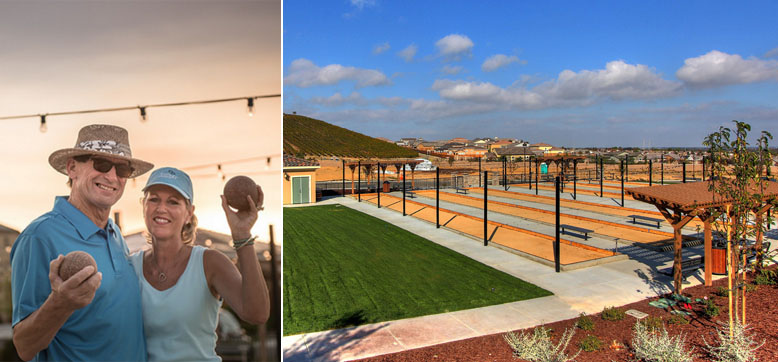 Two championship terraced courts flanked by manicured gardens provide a fabulous outdoor Bocce experience for small gatherings or larger tournament-style play.

Made In The Shade | Sante Fe Pergola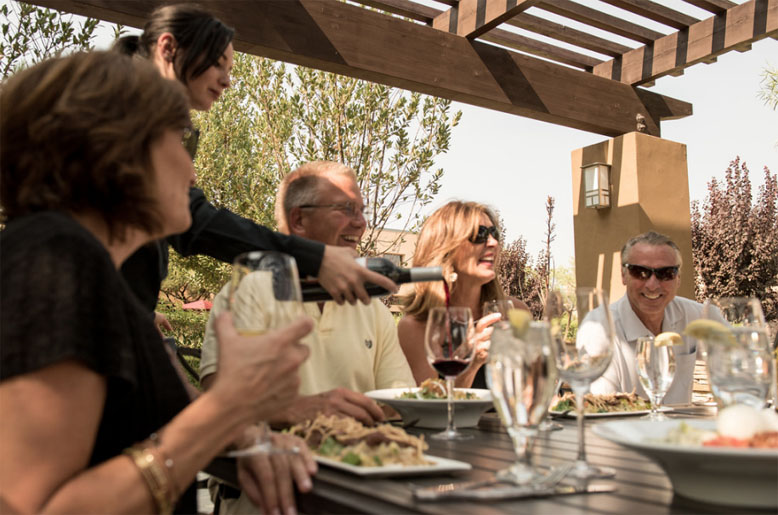 This covered outdoor space offers a large fireplace ideally suited for socializing, card games, wine tasting or intimate dinners for up to 6 people. Santa Fe Pergola is also the perfect spot to share a late evening glass of wine or fine cigar.

Get Down To Business | Postal & Business Center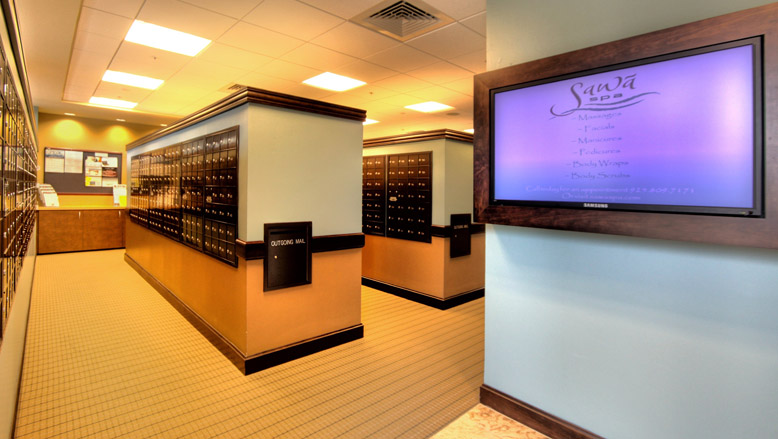 Like a Member's office away from the office, color copies, faxing, scanning, FedEx, postal support, notary services and more are available to those who need to take care of business at the Club. Mail delivery is centralized here in secure mail boxes to allow members to catch up on the social scene daily while grabbing their recent issue of Condé Nast Traveler.

Concerts, Dinners, Weddings, and More! | Mount Diablo Events Center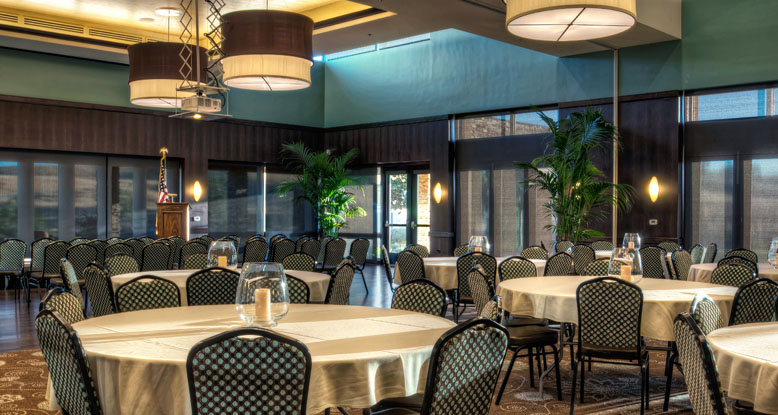 This full-service richly-appointed event center can accommodate up to 200 guests - with a spacious event-lawn with breathtaking views of Mount Diablo that can accommodate an additional 200 guests for outdoor parties. You can and even host an outdoor movie with Mount Diablo's jumbo inflatable movie screen. The event center draws upon distinctive land features and a backdrop of stunning scenery to create a truly extraordinary setting for your special event.

Tee It Up! The Golf Club at Brentwood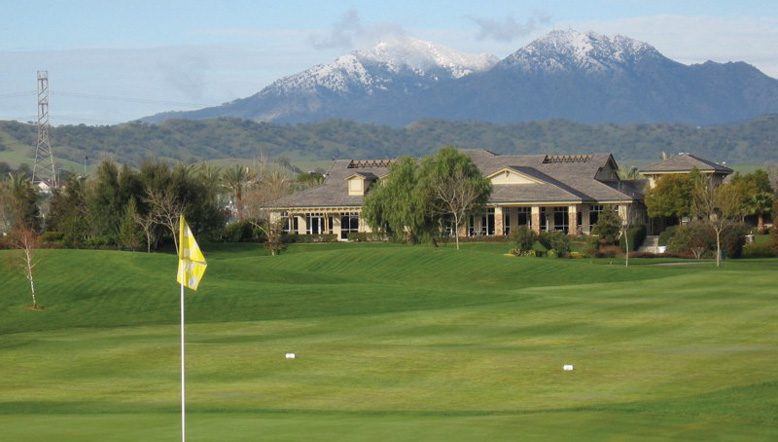 The adjacent Golf Club at Brentwood features a beautiful and challenging 27-hole public course designed by Ted Robinson, Sr., and offers preferred pricing and privileges for Trilogy® at The Vineyards Members.

It's Time To Come Tour Club Los Meganos In Person!
You have to see Club Los Meganos for yourself, to fully experience what our homeowners get to enjoy each and every day. Call our Community Representatives now at 800.685.6494 to schedule your appointment to come tour this spectacular Club and its amenities.