A 55+ resort community in the East Bay Area
LIFESTYLE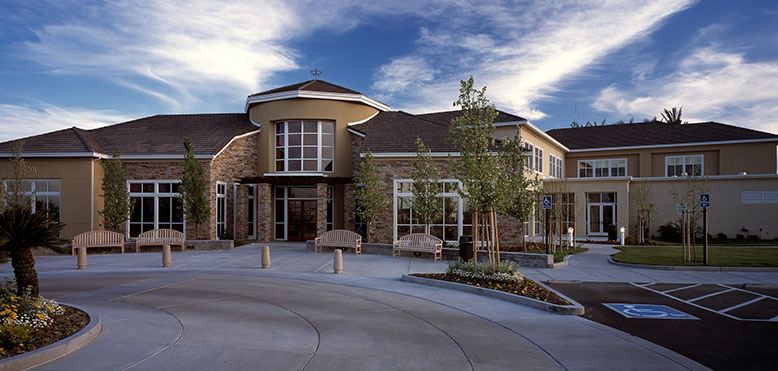 Welcome To The Vista & Delta Clubs at Trilogy Rio Vista!
This 27,000+ square-foot Vista Club at the center of Rio Vista is designed to be an extension of your home, and a place for connecting with yourself and others. The impressive modern architecture of the Club offers a comfortable atmosphere perfect for enjoying a latte at The Cyber Cafe, or reading your favorite book on the overstuffed couches in front of the stone fireplace in the Grand Living Room. Within the Vista Club, the state-of-the-art Fitness Center has everything you can imagine to keep you at your physical and spiritual best from Tai Chi classes to cutting-edge fitness equipment to health and fitness trainers. The Vista Club is designed with your active lifestyle needs in mind. The 7,000 square-foot Delta Club is located next to the Rio Vista Golf Club and includes gaming rooms, fitness areas, and a beautifully appointed outdoor pool.
Get In The Best Shape Of Your Life... The Rio Vista Fitness Center
A state-of-the-art athletic club that has everything you need to keep you at your physical best - from Tai Chi classes to cutting-edge fitness equipment to on-site health and fitness trainers. With ultra-modern training equipment, and real-time on-line personal training, every detail has been considered to maximize your fitness experience. State-of-the-art treadmills, elliptical trainers, stationary bikes, women's-only circuit weight and free-weight training - it's all here. There's even an adjacent indoor Aerobics Studio.

Enjoy A No-Sweat Workout at the Indoor Lap Pool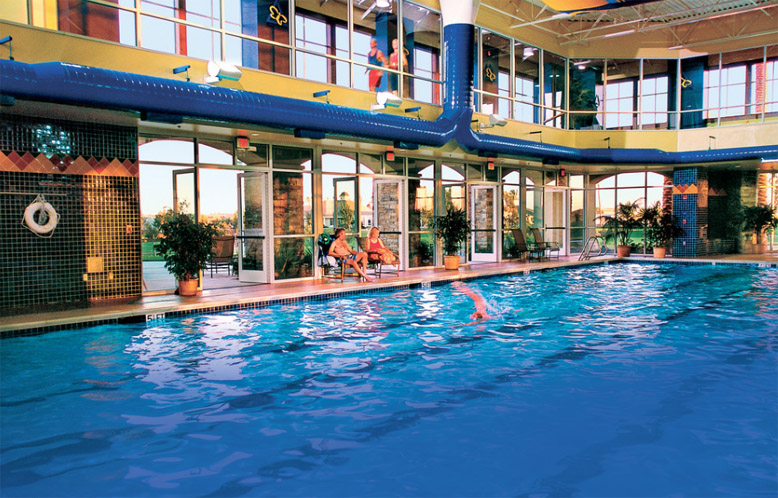 Our state-of-the-art indoor Olympic lap pool includes rolling edges to prevent waves, making it ideal for those looking to get in an aquatic workout. Its wave-reducing design lets you do your laps without extra resistance from other swimmers, so there are even fewer excuses now for you not to get into shape. There's an indoor Jacuzzi spa adjacent to the lap pool to soothe those aching muscles after a hard swim. Overhead, there's an indoor running track . . . so now you have access to year-round fitness accommodations to keep that body in shape.

Tee It Up! Rio Vista Golf Club
Acclaimed golf course architect Ted Robinson Sr. has designed an 18-hole championship course that's unlike any other for playability, shot variety and breathtaking scenery. It's designed to take advantage of natural landscape contours so that it flows harmoniously among crystal blue ponds and natural glens. Numerous water features, excellent conditions and the challenging but fair design are just a few of the many reasons to play the Golf Club at Rio Vista. Built to challenge the accomplished player while accommodating the novice, this rewarding course is appropriate for all levels of play.

Coffee, Great Eats, and Great Friends... at the Vista Cafe
A casual and fun coffee-and-more cafe, the Cyber Cafe at the Vista Club couldn't be further from the trappings of a pick-up counter and paper-cups coffee station. The Cyber Cafe is both comfortable and inviting, and created to promote a friendly gathering place for Rio Vista Members. Healthy light fare, fresh baked goods, and smoothies complement the coffee menu to expand the cafe's appeal. The traditional cafe ambiance is furthered by its inclusion of an International and National news stand, and modernized by its presence of online internet access for surfing the web, checking Facebook, or solving an argument using Google. We even provide the computers.

A Place To Meet The Neighbors - The Grand Living Room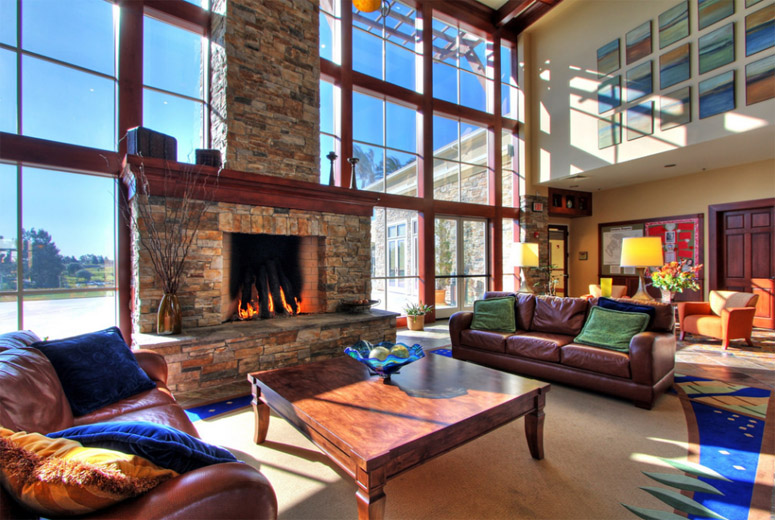 An extension of your home, the richly appointed yet cozy Grand Living Room is a perfect place to meet up with friends for a latte, unwind with a glass of wine, or read the paper in front of the stone fireplace. Two-story window-walls that look out on the rolling green hills of Rio Vista, overstuffed leather couches, vaulted ceilings - everything has been thought of for maximizing your comfort while enhancing your connections to friends, family, even yourself. The Grand Living Room is a favorite destination for Members at Trilogy at Rio Vista.

Explore New Interests, at The Center For Higher Learning
A classroom style room with over a dozen computer work stations for learning the finer points of computer applications, internet surfing, or a variety of educational topics taught by local educators. The Center is a perfect place to take classes of all sorts which may include computers, digital photography, foreign language, wine appreciation and more. When classes aren't in session, you can drop in for private internet surfing or online research, or facilitate your own class if you're so inclined.

Rack 'em Up! The Billiards Room at Trilogy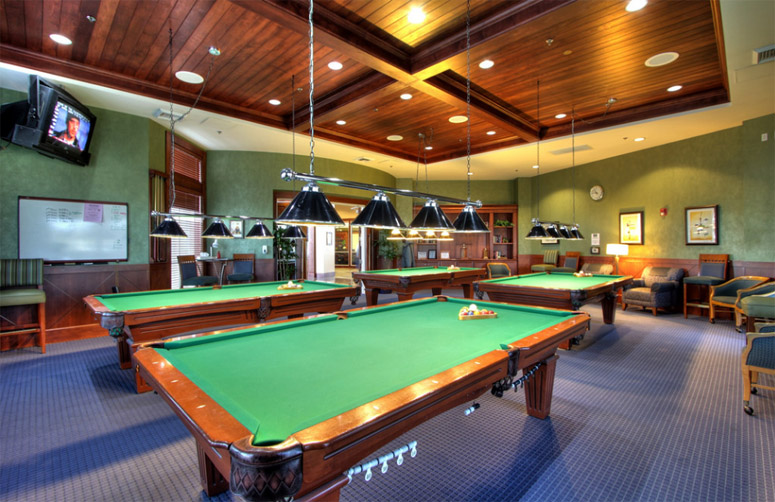 One-on-one or tournament-style play, the four full-size billiards tables, comfortable seating and suspended sports television broadcasts make this room a popular space.

Concerts, Parties, and More - The Diablo Event Room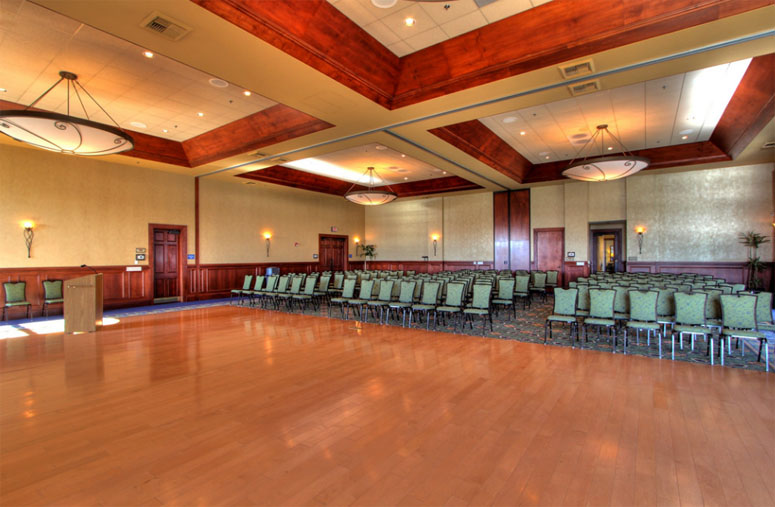 A large entertainment space with modern appointments, this community entertainment space is versatile enough for accommodating large parties, or hosting a more intimate gathering with close friends and family.



Great Food, Great Golf Course Views at Sir Flair's Restaurant
A full service restaurant and bar located in The Golf Club at Rio Vista with a menu featuring a diverse selection of regional and traditional favorites. Sir Flair's serves traditional food in innovative, delicious ways. The culinary team thrives on wow-ing its Guests with exciting daily specials, and Sir Flair's is a perfect place to enjoy great food and drinks with special friends.

Make A Splash at The Outdoor Resort Pool
Located at the Delta Club, Rio Vista's beautiful outdoor resort-pool will make you feel like you're on permanent vacation, and this space is a private amenity reserved exclusively for Members at Trilogy at Rio Vista. The outdoor resort pool is large and picturesque, and strategically situated to maximize the surrounding natural setting. There's a built-in barbeque facility adjacent to the pool area that is perfect for picnics and community events. You'll feel like you're at a five star resort setting . . . and your home is just minutes away.

Enjoy Some Spirited Competition at The Tennis Center and Bocce Courts
Members at Trilogy at Rio Vista are able to enjoy playing tennis on one of four championship-level courts. Conveniently located next to the Bocce Courts near the Delta Club House, the Tennis Center is one of the most popular sites in Rio Vista. There's even grandstand seating available that is capable of accommodating over 100 people. Professionally designed, spotlessly maintained, and beautifully situated, the Tennis Center at Rio Vista is an ideal venue for all tennis enthusiasts.
Two championship terraced Bocce Courts flanked by impeccable grounds and strategically located next to the tennis center provide a fabulous outdoor Bocce experience for small gatherings or larger tournament-style play.