A stunning resort community on California's Central Coast
LIFESTYLE

The Social & Activity Hub of The Community: The Monarch Club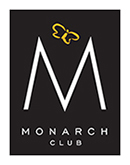 Nestled in Nipomo's eucalyptus tree forest on California's Central Coast, The Monarch Club combines rich architecture and chic design with 5-star amenities. Homeowners at Trilogy have convenient and private access to numerous amenities to enhance wellness and connection. Sculpt your physique at our professionally staffed state-of-the-art Fitness Center that has everything you can imagine to keep you at your physical and spiritual best. Spoil yourself in our full-service Sandalwood Spa where you'll find a personal haven to escape and enjoy the latest approaches to wellness and beauty. Plan your next adventure or keep yourself current in the Exploration Lounge a perfect place to take classes of all sorts which may include computers, digital photography, foreign language, wine appreciation and more. Foster connection by joining friends and family for a coffee talk at Adelina's Bistro. You can even host your next anniversary party or corporate meeting in the Club's unique Wine Library or Avila Room.
In just one visit, you will find The Monarch Club to be the ideal setting on the Central Coast for your next special event and the most exclusive hidden gem if your life's next great adventure finds you at Trilogy Monarch Dunes.

Tee It Up at Monarch Dunes Golf Course
Monarch Dunes Golf Club features both the award-winning championship "Old Course" as well as the 12-hole Challenge Course, both designed by Damian Pascuzzo & Steve Pate. Both courses were uniquely created to test your skills and tempt your senses. Monarch Dunes Golf Club is reminiscent of the true links-style courses found in Scotland, and a "must-play" for those who seek a challenging, yet amiable, unspoiled golf adventure.


A Place For Fun and Connection: The Grand Living Room
An extension of your home, the richly appointed Grand Living Room is a perfect place to meet up with friends for a latte, unwind with a glass of wine, or read the paper in front of one of our two fireplaces. Everything has been designed to enhance your connections - to friends, family, even yourself. And when you are ready to connect with the world, wireless internet access is available with the click of a mouse.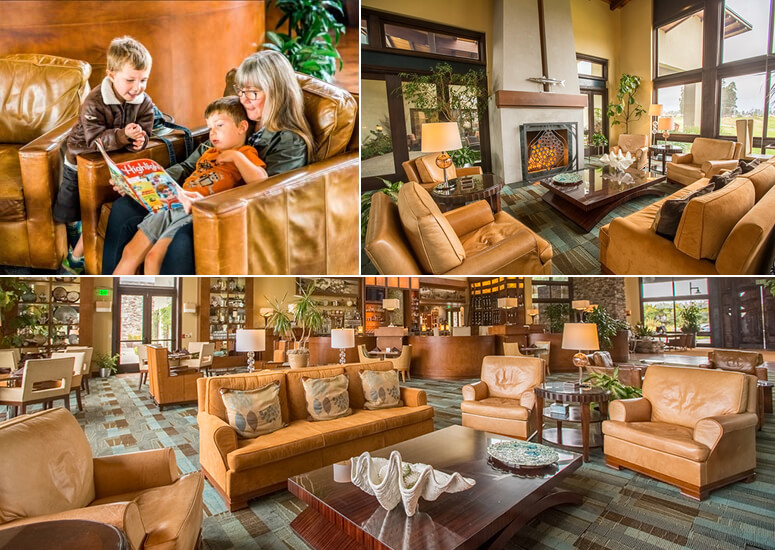 Get In The Best Shape of Your Life, at The Fitness Center
One of the main things you will notice right away about Trilogy is our emphasis on wellness of mind, spirit and not least of all, body. So we have built an expansive Fitness Center for Homeowners that caters to every individual and every type of personal fitness goal. More importantly, we have created an environment that you will find encouraging, inspirational and exciting. The Fitness Center features state-of-the-art TechnoGym strength and cardio equipment. There is also an array of classes taught by professional trainers, including Pilates and spin. Trilogy Homeowners are treated to the convenience and privacy of their very own private facility.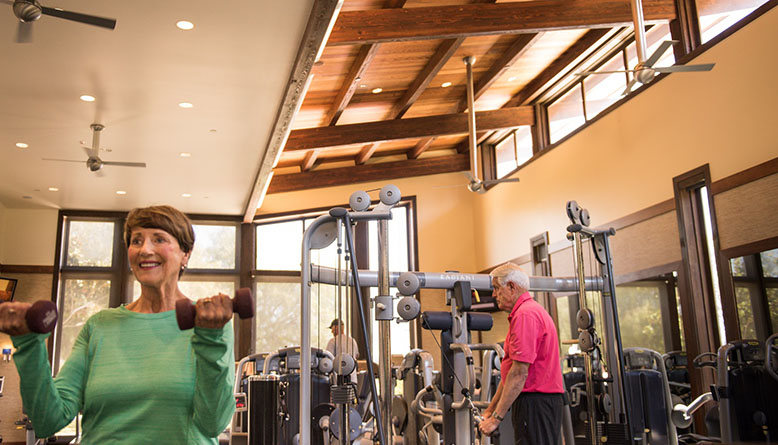 Great Food, Great Wine, and Great Fun, at Adelina's Bistro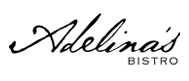 Local. Lovely. Lively. Welcome to the contemporary yet relaxed Adelina's Bistro where you'll enjoy regional cuisine made fresh daily using the best local, organic produce. Given our location, you can also expect a hand-picked selection of superb Central Coast wines. The sophisticated and fun atmosphere encourages new friendships and lively conversation, and the food will delight all palates. Trilogy Homeowners have even more fun at Adelina's - from special events like Tuesday Date Night, Fresh Fish Friday, Saturday Night Prime Time, and Sunday Suppers to discounted Homeowners-only pricing. With over 150 whiskies to choose from, specialty barrel-aged cocktails and only the freshest of ingredients, the bar at Adelina's Bistro has something to please every palate. The Bistro is a community favorite. Visit AdelinasBistro.com to learn more!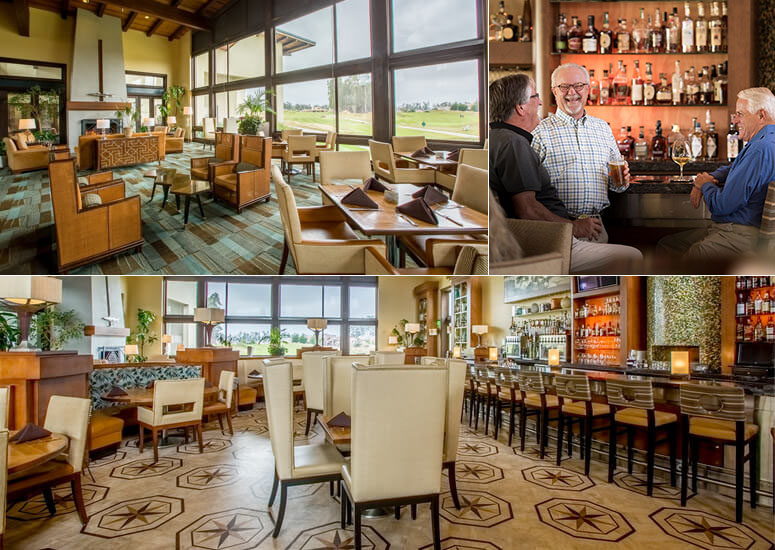 For Exquisite Events and Awesome Parties: The Avila Room
The Avila Room event center is the perfect destination for events both large and small. Catering to both Trilogy Homeowners and the Central Coast community at large, the public Avila Room is the perfect destination for Homeowner events like holiday celebrations and Super Bowl parties to "that special day" alike. Settled on the edge of the Monarch Dunes Golf Course, the Avila Room boasts sweeping views of lush rolling hills surrounded by Nipomo's beautiful native Eucalyptus trees. This elegant ballroom can accommodate up to 200 guests and features high cedar ceilings, a beautifully finished 600 square foot dance floor, and is framed by neutral tones. Equipped with a partition wall, The Avila Room can transform into a smaller space to suit an event or meeting of any size. The tasteful and modern decor in the Avila Room is the perfect setting for your chic special event, or corporate meeting.


Coffee & Provisions: Grab 'n Go at The Market Place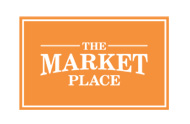 In addition to the delicious Bistro, Adelina's also is home to The Market Place, a complete specialty grocery stocked with what will become your favorite new indulgences. From a vast selection of breads and cheeses and exemplary local wines, to olive oil from all over the world (all personally chosen by Executive Chef Charles Weber), The Market Place at Adelina's is one part farmer's-market, one part old-time country store, and one part favorite new place. The Market Place is where you can get the best of the areas food and spirits to take home and enjoy on your own. Visit MarketplaceByTrilogy.com to learn more!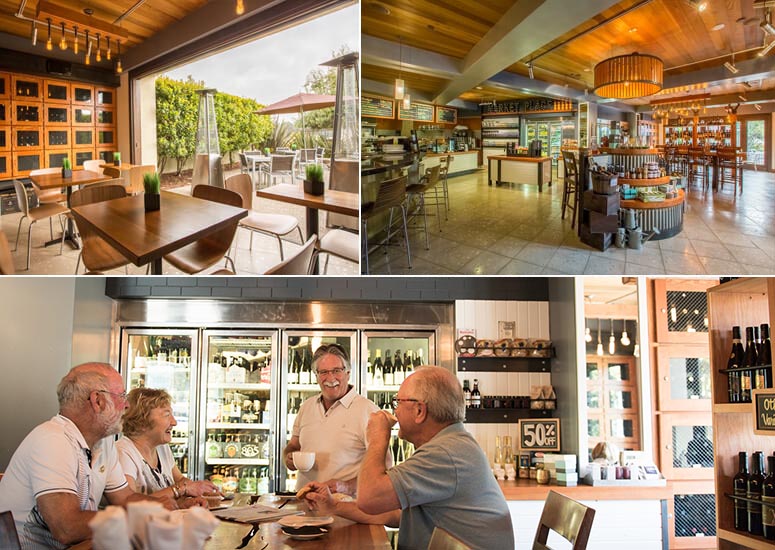 Relax, Rejuvenate, and Refresh, at Sandalwood Spa

At our Sandalwood Spa, you will find a personal haven to escape for massages, pedicures, manicures, facials, aromatherapy, and an array of tantalizing skin and body treatments based on the latest approaches to wellness and beauty. The spa is a tranquil place, providing treatments that restore balance into people's lives.
The Sandalwood Spa is a key part of the Monarch Club at Trilogy Monarch Dunes. Designed as an oasis for relaxation and rejuvenation, the spa will offer a complete menu of wellness treatments to take its clients on a sensory vacation they can enjoy again and again. Visit SandalwoodTrilogy.com for more information!


Host Special Get-Togethers In Your Private Wine Library
The Wine Library will make your guests feel as though they have stepped into a winery's private vintage reserve room. In a unique blend of culture and style, the Wine Library features serene front and back patio areas, private wine lockers, an indoor fireplace, and seating for up to thirty. The Wine Library is the ideal room for private events, corporate meetings, wine tasting, or dinner parties.


A Sophisticated Setting: The Captain's Room
The Captain's Room is ideal for an intimate meeting, luncheon, or dinner party. Conveniently located in Adelina's Bistro, the Captain's Room offers a variety of menu options to suit any palate. With seating for up to ten, the grandeur setting of the Captain's Room will make any occasion classy and sophisticated. Trilogy Homeowners can enjoy a customized menu selection and preferential scheduling of this room.

Lounge By The Pool, Or Make A Splash
Outdoors at the shimmering, turquoise pool you will find seating and lounges in a lush landscaped setting allowing for both sunning spaces and quiet places of shade. Swim laps, take a water aerobics class or just float in utter tranquility. Our built-in barbeque facility is perfect for picnics and community events.


Serenity In The Sculpture Garden
The Sculpture Garden is an outdoor plaza that creates a dramatic arrival experience, and is also an exciting gathering place for events and receptions. Guests are greeted by the intriguing grouping of eight to sixteen foot tall art pieces sculpted by local artists. Tastefully lit trees emerge from the plaza creating a majestic ambiance for your outdoor function.

Express Yourself! Get Creative In The Art Studio
In the Art Studio, you can pick up a new hobby or master your favorite art form from painting to ceramics, sculpture to calligraphy. With numerous Homeowner-managed clubs, Trilogy provides not only the space, but the camaraderie to enjoy your life's passions.


Catch Up On The News - or a New Interest - in the Exploration Lounge
Reminiscent of an Ivy League study area, our Exploration Lounge is a perfect place to catch up on the day's news or dive into a new book. This is the perfect place to take classes of all sorts which may include computers, digital photography, foreign language, history, wine appreciation and more.


Outdoor Fun With The Kiddos at Adventure Isle!
This play area is especially designed the grandchildren and children of Trilogy Homeowners. This private area allows children to run and play on the newest equipment available while not disturbing other community residents and guests.