Welcome To Trilogy® at Wickenburg Ranch!
Trilogy is bringing our renowned resort lifestyle to this true Arizona treasure. Trilogy at Wickenburg Ranch is a luxurious community with a modern Western flair, offering spectacular championship golf, innovative home designs that truly stand apart, and a 5-Star resort club being built on a spectacular site overlooking the golf course and serene desert terrain. This brand new Trilogy is an all-ages community that may offer select 55+ neighborhoods.

Saturday, March 4th: Grand Opening of Wickenburg Ranch Golf & Social Club | 11:00am - 4:00pm
The day that we've all been waiting for is almost here! On Saturday, March 4th, we'll celebrate the public Grand Opening of the brand new Wickenburg Ranch Golf & Social Club! Make plans to visit between 11:00am and 4:00pm for a fun day of live music, cooking samples in Sophie's Culinary Parlor, food for purchase, and your first chance to tour through the ~40,000 square feet of indoor and covered spaces at the resort club.

RSVP online now to join us!

New! Take a Virtual Tour of the Wickenburg Ranch Golf & Social Club, Opening March 4th!
We're excited to share with you a brand new virtual tour of the Club coming to Trilogy at Wickenburg Ranch in March!

And here's a new drone flyover video showing the progress at the Club site, and the now-open Li'l Wick and Watering Hole!

Driving Directions To Trilogy at Wickenburg Ranch:
*Google is providing incorrect directions, and in some cases is showing the incorrect address, as we are a brand new location. Please use the following directions to get to the community:
From I-17 North, take Carefree Highway 74 West to its terminus at the US 60 West
Go right (North) on Hwy 60 West towards Wickenburg
At the roundabout in Wickenburg (which is just past the McDonalds on the righthand side of the road), veer to the right on the Wickenburg Bypass (89/93 N)
At the next roundabout, Tegner Road, continue through the roundabout North on 89/93 towards Las Vegas
At the third roundabout, which has a large set of Spurs, the community entrance will be to the right of the roundabout - 3312 Maverick Drive

About Trilogy at Wickenburg Ranch
Located just northwest of the historic center of town near the site of the old Wickenburg Inn, Trilogy is set in the high desert, surrounded by rugged cliffs in a valley anchored by a lush golf course.
Those lucky enough to own a home here enjoy the absolute best combination of Arizona's climate: warm days and cool nights with overnight temperatures that are 10-20 degrees cooler compared to the Phoenix metro area. Those cool nights and mornings extend your ability to experience the glorious desert climate and the joy of indoor-outdoor living on a truly year-round basis. This extended temperate season also makes Trilogy at Wickenburg Ranch the ultimate choice for winter residents who come to enjoy what is often the best weather in the country. Extraordinary vistas and star-filled, dark night skies are a signature feature of Trilogy life.
The stunning night sky over Trilogy at Wickenburg Ranch
In the historic town of Wickenburg, there is easy access to all the attractions and Western hospitality this amazing area is known for, including Western museums, performing arts, horseback riding, and year round ropings and rodeos. As the Dude Ranch capitol of Arizona, Wickenburg has four beautiful ranches for entertainment, fun and adventure. At night, enjoy local legends and ghost tours through town or stop by one the local saloons for a unique dining experience. Cultural treasures to be found in Wickenburg include boutique shopping, art exhibits, and an outstanding performing arts center featuring performances by Jessica Lang, the Texas Tenors, and much more.
Everything people love about the wide-open, rugged beauty of this storied town is about to be re-created in an exciting new way. Authentic Arizona is redefined at Trilogy at Wickenburg Ranch.

A Special Partnership
Trilogy by Shea Homes® is thrilled to be partnered with the Master Developer of Wickenburg Ranch. For more than three decades, the M3 Companies® – a full service real estate development company headquartered in Phoenix, Arizona - has built its name on ingenuity, genuine stewardship and a boldness to test new ideas. Incorporating the belief that great developments allow integration of the past with the future – M3® is a leader in redefining "community" for all generations, by designing and developing an environment that suits every lifestyle with a focus on maximizing the outdoor experience. M3® is the perfect partner for Shea Homes in realizing our joint vision for creating this incomparable community in Wickenburg.

The Ultimate Golf Experience: Wickenburg Ranch Golf & Social Club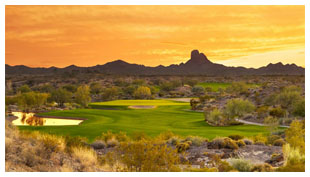 As one of golf's top destinations, the Valley of the Sun isn't lacking in golf courses. But nothing quite compares to the unique experience at Wickenburg Ranch Golf & Social Club. Designed over the course of a decade by two passionate stewards of the game, Bill Brownlee with M3 Companies® and Wendell Pickett of Greey|Pickett, the golf course at Wickenburg Ranch has been carefully crafted to ensure maximum playability, shot values, and enjoyment. Each hole is a chapter in a larger story, with varying distances, compass directions, and skill requirements woven into the experience. Because of the elevation and the relatively mild summer temperatures in Wickenburg, the course is able to maintain Bentgrass greens all year round. Designed to challenge players of all skill levels, this rewarding course really puts the play into your game. Whether you plan to enjoy views of the golf course from your backyard or from the green, you'll find the setting is truly stunning. Learn more at www.WickenburgRanch.com.
Some recent golf course accolades:
"100% Five out of Five Star reviews"
- GolfAdvisor.com
"Wickenburg Ranch has the best greens most public players will ever have the chance to experience."
- Travelin' Joe Passov, Golf Magazine | 2015
"Seven years in the making means that Wickenburg Ranch holds a special place in Arizona golf history. In fact, I've never seen anything like it in my 30 years of covering the game. And it's got everything you'd ever want in a great golf course -- value, variety and spectacular views!"
- Bill Huffman, Backspin The Golf Show | 2015
"The rolling terrain blends into the desert resulting in such a natural looking golf course that you feel right at 'Home on the Range' and want to play it over and over."
- Wes Bolyard, Arizona Fairways | 2015
"In that regard, Brownlee, Pickett and Shea have hit a behemoth drive right down the middle of the fairway. With rambling hillsides, switch-back canyons and snake-like arroyos that abut Prescott National Forest, there is a lot of the "Wild, Wild West" at Wickenburg Ranch."
- Bill Huffman, AZ Golf Insider | 2015
"America's Most Inspiring Practice Ranges; No. 3 ...Wickenburg has a huge amphitheater of a range where you hit toward a bluff framed by amazing mountain views."
- Gary Van Sickle, Golf.com | 2015
"Those making the journey will encounter some of the best course conditions in the country, let alone Arizona."
- Tom Mackin, Southland Golf Magazine | 2015
"It's artfully designed holes showcase vistas of Vulture Peak and the Prescott National Forest, each a chapter in a larger story, with varying distances, compass directions, and skill requirements woven into the experience."
- Arizona Golfer | 2015

Browse Our Video Gallery:
To view the full gallery, you need to have JavaScript enabled in your browser.