The Only New Golf Resort Community Near North Scottsdale!
As the only new golf resort community proposed to be built in this sought-after area of the Valley in several years, Trilogy® at Verde River™ is destined to become one of the finest examples of Shea Homes' master planned resort communities. Located directly east of North Scottsdale, Trilogy at Verde River is within easy reach of some of Arizona's most popular shopping, sports, and tourist destinations, as well as its spectacular natural landmarks, and less than an hour from Phoenix Sky Harbor International Airport.
The Tonto National Forest serves as the community's eastern border, and the nearby Verde River brings with it amazing recreational opportunities and scenic beauty. Trees line the river's banks, bringing a burst of green to the landscape, and Arizona wildlife including javelina, Kingfishers, and American Bald Eagles enjoy this natural sanctuary. From hiking and walking trails to road bike and mountain bike trails, fishing, and boating, you'll have opportunities to enjoy the fresh air and serenity of the surrounding area each and every day.

Video: The Good Life at Trilogy Verde River!

Video: The Excitement is Building!
Tremendous progress has been made on the highly-anticipated Verde River Golf & Social Club, which will include ~30,000 square feet of resort-like amenities. Initial amenity offerings will be available to enjoy far in advance of the Club's entire grand opening, including the Outdoor Sports Pavilion, which is expected to open in early 2017 and features four pickleball courts, four tennis courts (one with stadium seating), three bocce ball courts, and a multi-purpose grass lawn for hosting various recreational activities. The Outfitter, a complement to the community's distinctive proximity to Tonto National Forest, is also planned to open in early 2017, and will serve as a hub for Members to claim equipment for golf, biking, hiking, watersports, and more - everything needed to take full advantage of the natural amenities in the community's backyard. Following the opening of the Outdoor Sports Pavilion and The Outfitter, the Club's outdoor resort and fitness pools are planned to be unveiled in the spring of 2017. There, Members can lounge all day while absorbing the breathtaking mountain views at their pool and poolside bar. Watch this video to get a sneak peek at the progress:

The Golf Course Reopened To The Public!
With an average of 250 days of sunshine per year, Members and guests enjoy all four seasons on the championship golf course, and the golf experience here lives up to the most seasoned golfers' expectations. We're excited to reveal the incredible course enhancements completed by PGA Tour® Legend and accomplished/renowned golf course designer, Tom Lehman. Learn more and book your tee time now to check out the new golf experience at Verde River Golf & Social Club!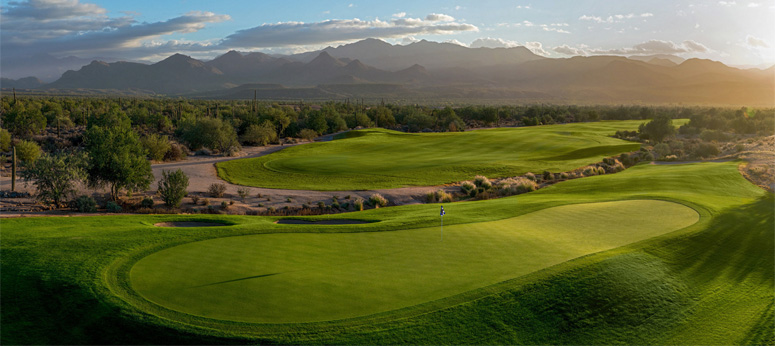 Resort Living that Redefines Fun, Adventure, Friendship, and Wellness
Trilogy® at Verde River will combine thoughtfully designed floorplans with quality construction, energy-saving innovations, and architectural inspiration. This exclusive community will feature a 5-star lifestyle and a stunning resort club that is being designed by famed architect Bing Hu of H&S International. The resort club is planned to be rich with 5-star amenities and a unique style not found in any other North Scottsdale club. Designed to exceed your expectations, our goal is to create an environment that's simply not available anywhere else.
With so many ways to relax, be pampered, or get active, homeowners at Trilogy Verde River will find the Club to be the social hub of the community, offering world-class resort amenities and service. Inspiring architecture will define the club, which may feature a state of the art fitness center, terrific dining, special interest clubs, enriching classes, tennis, and much, much more.
Come tour the Model Home Gallery, speak with our Community Representatives, and discover why thousands of homeowners nationwide have chosen to live The Good Life at Trilogy. Watch the video below to learn more about Trilogy, and hear from real homeowners about their decision to make the move to a Trilogy community:
To view the full gallery, you need to have JavaScript enabled in your browser.

Trilogy® is a registered trademark of Shea Homes, Inc., Future sales by Shea Communities Marketing Company ( AZ DRE#CO001121000), Construction by SHALC GC, INC. (AZ ROC# 291056). This is not an offer of real estate for sale, or a solicitation of an offer to buy, to residents of any state or province in which registration and other legal requirements have not been fulfilled. Void where prohibited. No sales will occur until the State Real Estate Department issues a Disclosure Report for the community. Use of the golf course and club is at the pleasure of the club owner. Golf course is planned to be private. Owners must purchase a separate golf membership from the course owner.